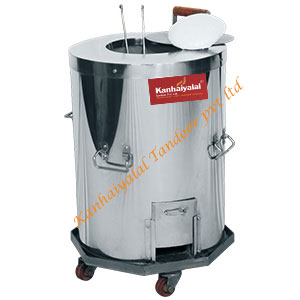 A clay pot is fitted in a M.S round drum / mild steel round drum of 18 s.w.g in a plain design with a provision of ash outlet.
Four Handles (collapsible type) are provided for lifting, pushing and pulling.
The pot is duly insulated with mineral wool. The top surface is given a fine finish of stainless steel .
Extra Button
THE MOST COMMONLY USED Stainless Steel Round Tandoor With Wheel & SS Top DESCRIPTIONS
Width
Length
Mouth/Inner Dia
Height with Wheel
Height without wheel
Weight (Approx)